Step by Step Guide How to Wheatpaste.
Permitted & Unpermitted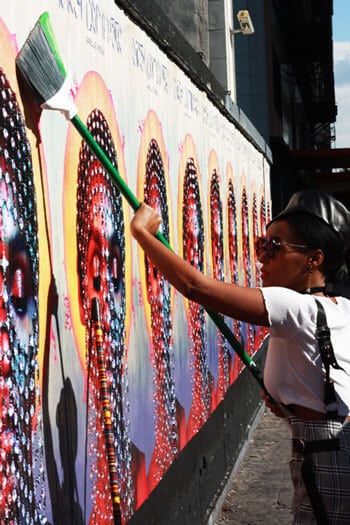 When you approach an agency, the first question you'll have to answer is whether you want your wheatpaste poster to be permitted or unpermitted.
Permitted means that landlords allow the posters to be posted on their buildings for a fee. While that does increase the price, it also means your poster probably won't get tagged or torn down by the landlord.
Unpermitted means landlords don't want the wheatpaste poster on their building, but the street teams will post them on his/her building anyway.
Going unpermitted increases the likelihood of your posters gets tagged, because technically they're not supposed to be there in the first place. However, unpermitted is also less expensive and if the seeds of rebellion are all over your ad, a guerilla format might be ideal.
Pick Targeted Area
Next step is to pick where you want your wheatpasting poster to be seen by picking a target area.
What's a target area?
The short answer is a city within a city.
For example, if you live in Los Angeles, targeted areas are Santa Monica, Silver Lake, Melrose etc.
If you live in New York, targeted areas are Brooklyn, Manhattan, Staten Island etc.
Most campaigns consist of 20-40 locations. Though if you have room in your budget, it's possible to post your wheatpaste poster in all available target areas.
And obviously, the more places you post the larger the cost.
Size
Wheatpaste posters come in 2 sizes.
The first and most common is the 36×24 poster.
The second is the 72X48 size which is four 36×24 posters put together.
Like many things on this list, budget determines what you'll ultimately choose.
The Creative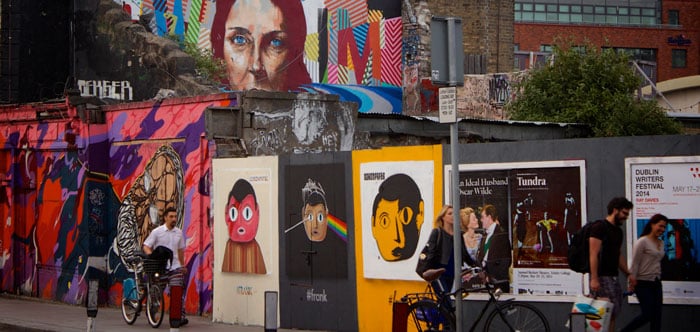 For those of you without a marketing background, a Creative is a term referring to the content and creative aspects of the marketing. They are used to sell advertising and generate leads which is put together by copywriters, art directors and creative directors in an advertising agency.
Most companies looking to set up a wheatpasting poster campaign supply their own creative via spec sheet, though most agencies can provide a creative for the company as well. You'll just have share 3 things with them.
The focal point
The color pallet
Message, website and/or social media handle.
Flight Length
Flight length is the duration of the time the wheat paste poster is on the construction site, subway tunnel etc.
Most flight lengths are 2 weeks long. After that, the posters get stale, ruined by weather conditions, suffer discoloration, tagged or are simply defaced.
Some companies do ask for flight lengths that last a month and the first round of wheatpaste posters are switched out for new ones.
An example of this is a music artist wanting to promote his upcoming single or album for the first 2 weeks and then changing the poster to announce the release of his album for the last 2 weeks.
Order Shipped
Once all the steps above are taken care of, the layout of the poster is emailed to the street team along with the target area and the number of wheatpaste posters needed for that target area.
After that, the posters go up and 10-12 pictures are taken from every angle in the daytime, highlighting the activity and location.
For example, if the posters are going up in Hollywood Blvd., the street team would make sure some of the pictures had the stars and/or the Hollywood sign in the back as well as the people walking by.
That way you know for sure your wheatpaste poster is getting maximum exposure.
If you decide to work with us, our street team have been working the streets of LA for over 20 yrs. and they know how to deal with the competition and building owners.
They're also out 5 days a week, sometimes 24 hours a day to make sure no messes with your wheatpaste poster.
Get Started
For more information or to start your own campaign, download is sample spec sheet here and discover how wheatpaste posters can take your marketing to the next level.